DOWNLOAD: Tai Jay – Moribatise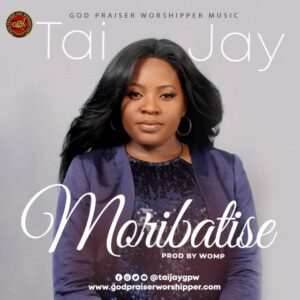 DOWNLOAD:
Tai Jay – Moribatise
Gospel music minister and founder, of God Praiser Worshipper Radio & Music, Tai Jay is out with a new single titled "Moribatise."
The Contemporary Nigerian Praise tune is Tai Jay's testimony. Embedded in the lyrics is the story of restoration, of how God made a way where there seems to be none.
British-Born into luxury, Tai Jay, alongside her siblings had to grapple with the mazes of life when a trip to Africa for an important family event turned south. Life suddenly took a different turn on them resulting in extreme poverty. She and her family turned to God who made a way and changed their story.
"Moribatise" is her response to the gratitude oozing from her heart to God. It is her declaration in praise and testimony about the wonder working power and wisdom of God.
Eternal thanks to God Almighty and gratitude to my co-composer and loving hubby Pastor Leke Jaiyesimi. Produced by anointed WOMPand released under the humble stable of God Praise Worshipper Music.
Connect:
Facebook: Tai Jay GPW
Twitter: @taijaygpw
Instagram: Taii Jay GPW
Tel: 07426669451
Email: Godpraiserworshipper@yahoo.com
Website: Godpraiserworshipper.com
What do you think about this song?
We want to hear from you all.
Drop your comments
Upload your Song
.
What do you think about this Video?
Drop your comments
Upload your Video
.
Moribatise
Tai Jay
READ ALSO 👇