DOWNLOAD NEW MUSIC: Minister Mex – Big God (ft. Mike Abdul) [Mp3, Video & Lyrics]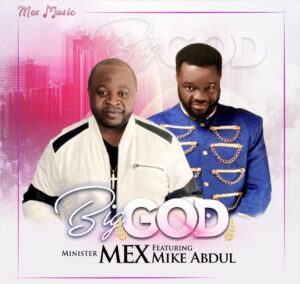 DOWNLOAD NEW MUSIC: Minister Mex – Big God (ft. Mike Abdul) [Mp3, Video & Lyrics]
Nigerian-American gospel artist, Minister Mex releases new single titled "Big God", featuring Nigerian multi award wining gospel singer, Mike Abdul.
Brief Profile Of Minister Mex
Emeka Okpala, aka, Minister Mex is an eclectic, multilingual singer songwriter/producer, as well as an accomplished music director, who creates music with a strong blend of African American influences as inspired by the holy spirit.
Minister Mex was born and raised in Jos, a city in the northern part of Nigeria. From an early age, he always found himself strongly attracted to music (especially traditional African Contemporary). getting to the United States, he has worked with great gospel artists in the likes of Samsoft, Sammie Okposo, Mairo Ese, Clebiane, and lots more.
He has recorded several songs like "Super", "Only You", "Will You Be Ready" and other popular songs.
Sharing the inspiration behind his latest single "Big God", Minister Mex said;
[purchase_link id="3795″ style="button" color="green" text="Get Trending Mixtape"]
LYRICS:Oh oh oh ohIts your boy Mex and Mike Abdul
Hallelujah
ChorusI serve a very big God oh
Oh oh oh oh
I serve a very big God oh
Hallelujah
My God, you're always by my side oh
I go give you the praise
You will never change x2
Who dey forgive my sinsWho dey give me joyWho dey heal my heart ohNa Jesus
Eh eh who dey forgive my sins ohWho dey heal my heart ohWho dey give me joy oh oh oh
Na Jesus
Vamp 1Say, baba Na you
You cover me with your hands Lord,
You cover me with your wings Lord
Akamdinelu (a-kam-de-ney-lu) 2x
Sayyy
I serve a very big God oh…) 4xChineke mo
My God is bigger my God is greaterMy God is bigger yelele eh eh eh eh eh ehHallelujah
I serve him
You serve Him,
Do you serve am
We are serving iyelelele eeehhhhh
Mike Abdul
Inexhaustible oh,
Insurmountable God
The mountains obey you
Every government surrender
You are the starting the middle the ending the final say
Oh jah Jehovah biggy biggy heavy heavy
You are the talk e Na do
(Baba na you, you cover me with your hands Lord…)akamdinelu x2
Goodness and mercy (call)
Goodness and mercy everyday I will see
Nothing is impossible
It is well with my soul
My case is different my case is different
Goodness and mercy everyday I will
Nothing's impossible, nothing is impossible x3
Repeat chorus (I serve a very big God..)
Bigger than what people say
Bigger than what people call him
He's bigger than all the names that we know oh oh oh oh
Bigger than all the names oh
Wonderful marvelous beautiful powerful glorious majestic remarkable excellent eminent distinguished fabulous
Bigger than all the name
Repeat chorus (I serve a very big God…
Connect with Minister Mex;
Twitter: @officialmex4
Instagram: Minister_Mex
Facebook: Minister Mex
YouTube: Mex Music
Also enjoy "Jesus Press The Button" by Minister Anne
What do you think about this song?
We want to hear from you all.
Drop your comments
Upload your Song
.
What do you think about this Video?
Drop your comments
Upload your Video
.
Big God
Mike Abdul
Minister Mex
READ ALSO 👇