DOWNLOAD NEW MUSIC: Taiwo Naija – Gratitude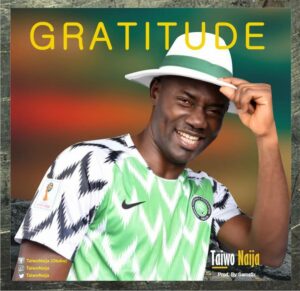 DOWNLOAD NEW MUSIC: Taiwo Naija – Gratitude
Taiwo Oluwayamife-Akinola formerly known as Taiwo Otubu, and also known by his fans as TaiwoNaija because of his passion and undying love for Nigeria, is a Spirit filled Christian,worship leader, songwriter and recording gospel artist.
"Gratitude" is Taiwo's second single for Nigeria after the first titled "Baba do more" .As we celebrate our 60th independence and pray more for our nation the more, we need to approach God with utmost Thanksgiving and not murmurings and complaining as the is the only acceptable and result oriented approach to moving God's hand to our favour in any given unpalatable situation.
Am well aware of the deplorable state of things in the nation but the right attitude of gratitude will put our cry in good standing before God when we call for His divine intervention toward turning things around for the better. It's a new day and a new dawn for Nigeria. Better days are both here and ahead, believe God with me for this. God bless Nigeria
Connect:
Facebook @TaiwoNaija(otubu)
Instagram @TaiwoNaija
Twitter: @Taiwo_Naija
WEBSITE: www.hou
What do you think about this song?
We want to hear from you all.
Drop your comments
Upload your Song
.
Gratitude
Taiwo Naija
READ ALSO 👇