DOWNLOAD Music: Iyke Bruce – Omenuko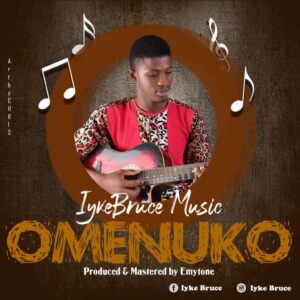 Chukwuke Chukwuemerie Godwin Popularly Known As IYKE BRUCE is gospel singer,song writer, music director, anointed, gifted & talented artist who just releaes his Single track title "Omenuko" meaning You're My Provider It is a blend of English and igbo dialect Eastern Nigeria billed to be made available for global listing, this song was composed and written by Iyke Bruce
Produced by emytone studio onisha
The song is an expression of a heart felt PRAISE and thanksgiving to God who specializes in doing what no man can do. It is only God that changes the story of men, AND GIVE U HOPE WHEN THERE IS NO HOPE,You need to have This song
Download & Be Blessed
LYRICS
Lord u filled my heart with joy king of glory and you filed my mouth with testimonies I can't say it all I know the reason why I call u
Omenuko 2×
Omenuko ibu
Omenukomue ..
I know the reason why I call u Omenuko For the miracle in my life that's why am here for the life u gave to me that's why am here to give all the glory that only you deserve and to give you all the honor that belongs to u
Chorus 3x Omenuko, ibu omenukomue I Know the reason why i call you Omenuko 1 verse When I was alone you were they for me daddy mgbe ihe na esirim Ike you came for my help, you have done what no man could do,you have done what no man could do I am deep in love with you and I am deep in lost in you Abba Father you're my all in all
Chorus7x Omenuko, ibu
What do you think about this song?
We want to hear from you all.
Drop your comments
Upload your Song
.
Iyke Bruce
Nigerian gospel music
Omenuko
READ ALSO 👇